Established in Taiwan in 1988,
LONG WIN TECH MATERIALS CO.
and
LONG WING INT'L COMMERCE CO.
is dedicated to the sales of mineral chemicals and electronic material. Long Wing Group provides product support and after-sales service in response to client needs.
LONG WIN TECH MATERIALS CO.
got distribution deal of
TACBECON®
's
Lubricants in 2013, hoping to present the best products and service to every client
The growth of cross-strait trade, coupled with rapid development of petrochemical industry in recent years, made China become an important trade market for the international petrochemical industry. In order to maintain a stable relationship with suppliers,
LONG GAIN INTERNATIONAL CO.
was founded in Jiangsu province, the plastic intensive industries area, in 2006 to offer service to local clients.
LONG GAIN INTERNATIONAL CO.
was launched in 2011 and became UOP Petroleum Refining Processes (American brand) distributor which has gained the trust of CPC, FPCC, FCFC
, etc. Anti-corrosion and fireproof coating for equipment, and pipelines were valued as the growing importance of safe work environment. To enhance clients service,
LONG GAIN INTERNATIONAL CO.
has also got the distribution right for
PPG
(American brand) coating in Taiwan and Xiamen -Gulei Petrochemical Industrial Park to provide best service.
Trung To Industry CO.
was founded in 2017 with aim of supporting Formosa Ha Tinh Steel Corporation.
Chungmosa Co.
was launched in 2017 to be
PPG
exclusive distributor in Taiwan. Eco-conscious is becoming mainstream, and possibility of tiles fall off wall make them be phased out in Taiwan, instead
PPG
architectural coating (100% waterborne) is a safe and environmentally friendly product with beautiful effect for all buildings.
---
History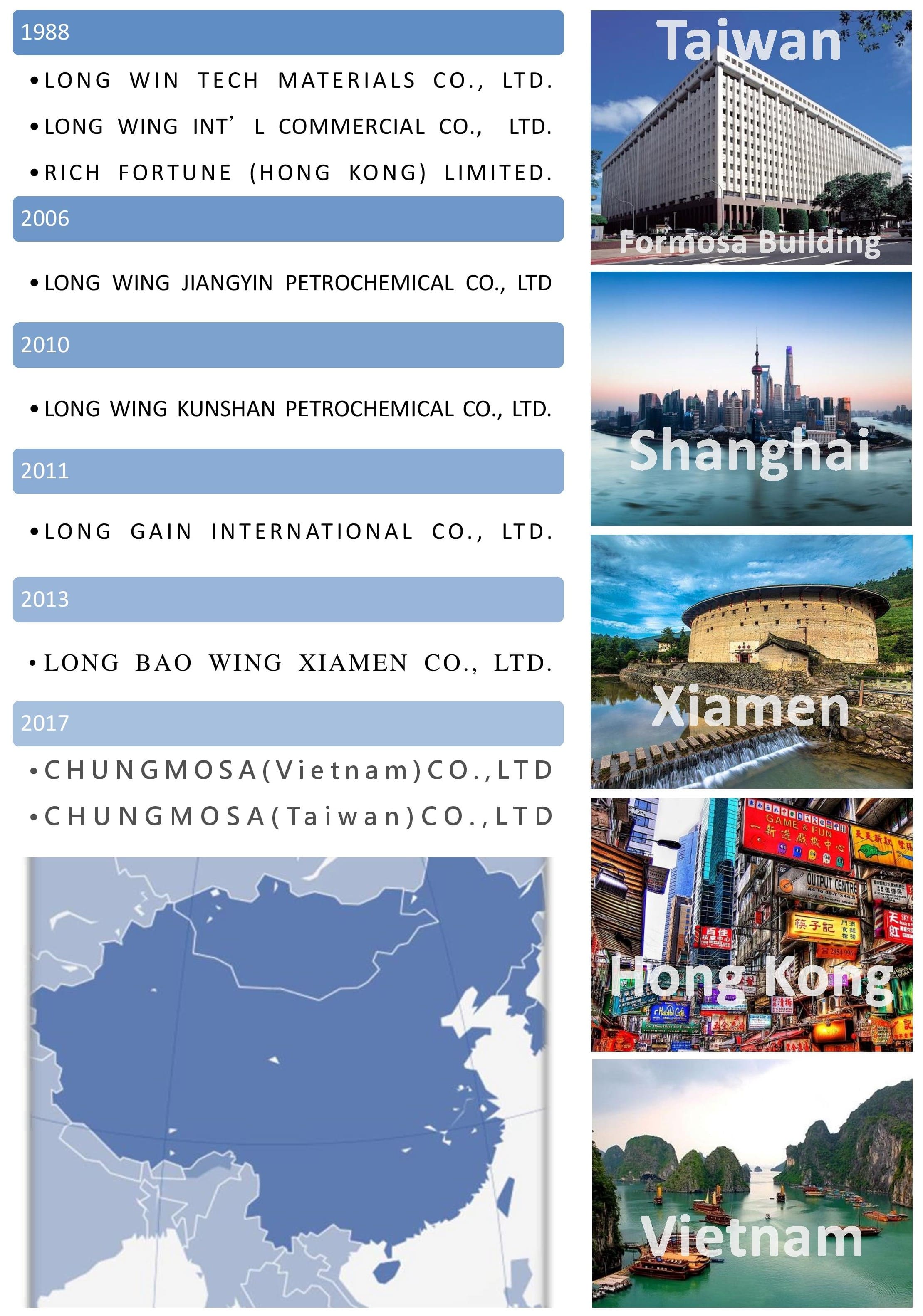 ---