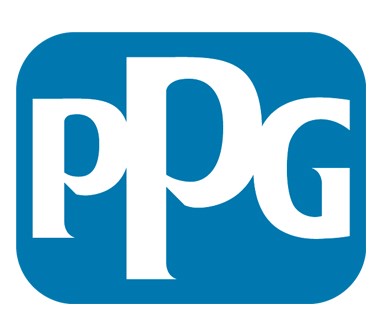 Brand Introduction
---
PPG Industries(NYSE:PPG)Founded in 1883 as Pittsburgh Plate Glass by Captain John B. Ford and John Pitcairn in Pittsburgh, Pennsylvania. Today, PPG is a global supplier of paints, coatings, optical products, and specialty materials.
Through leadership in innovation, sustainability and color, PPG helps customers in industrial, transportation, consumer products, and construction markets and aftermarkets to enhance more surfaces in more ways than does any other company.
2022 EXTERNAL RECOGNITIONS
1 on Coatings Worlds Top 20 Companies list

Listed on Fortune's Most Admired Companies for the 15th year in a row

4 on FORTUNE® World's Most Admired Companies in the chemicals sector

THE WALL STREET JOURNAL® Management Top 250

4 on ICIS Chemical Business Top 100 Regional Leaders list
19 on ICIS Chemical Business Top 100 Chemical Companies list
90 on INDUSTRYWEEK® U.S. 500 list
182 on BARRON'S® 500

235 on the Fortune 645

689 on Forbes Global 2000
PPG has received numerous awards and recognition for its commitment to ESG sustainability.
---
Product Coverage
 
PPG was composed of 11 business in 2 segments,customers in various industries around the world, PPG's products can meet the needs of all. As one of the world's largest suppliers of coatings, paints, glass, fiberglass and chemicals, PPG has been continually developing its product range and perfecting it to adapt to the ever-changing market demands

.

PPG has been

continually

developing its product range and perfecting it to adapt to the ever-changing market demands


For more information about

the PPG Industries Group

, please refer to::www.ppg.com。
---
Protective and Marine Coatings
PPG Protective & Marine Coatings (PPG) is widely recognized as a world leader in protective and marine coatings, developing innovative, cutting-edge products and services that are fit-for-purpose and are designed to deliver value for money and protect customers' assets in some of the world's most demanding conditions and environments, including:
Infrastructure

– our coatings are used on airports, bridges, pipelines, stadiums, water and wastewater treatment plants, water transmission and storage.

Marine

 – coatings for new-build vessels, dry dock situations, inland marine applications and maintenance done at sea.

Mining

– our highly specialized coatings are used in a wide range of demanding mineral extraction situations.

Oil, Gas and Chemical

– we have a wealth of experience in highly specialized coatings protection for structural steel, storage facilities, process equipment, pipes and in passive fire protection. Our state-of-the-art technology is used extensively within the onshore and offshore oil and gas industry where assets are exposed to the most extreme corrosive conditions.

Power

– decades of innovation and investment have given us proven, durable products for a range of power sectors: fossil fuel, nuclear, hydroelectric, wind and transmission towers.
We have the scale and resources to deliver outstanding support with well-established operations in over 60 countries. Continuous development ensures that we provide optimal solutions for asset owners, contractors, fabricators and applicators across the globe, helping our customers to meet the challenges they face today and tomorrow.
---
PPG has been operating in the Asia Pacific region since the 1990s. Brands such as IVY®, SEIGNEURIE®, MASTER'S MARK® decorative coatings have help to beautify and protect landmarks and key projects in China, including the elevated highway in Shanghai, Shanghai Jin Mao Tower, Shanghai Grand Theatre, Shanghai Pudong Airport and Shanghai Opera House and International Conference Center. IVY and Master's Mark paints also consistently rank in the top three in public satisfaction surveys of paint and coatings.
Seigneurie
It was founded in 1880, and has been the coating leader and first choice of clients in France for a long time. Continuous innovation is the reason why Seigneurie can provide multiple solutions to market. Its applicable to all kinds of wall and tie in mankind with environment by high performance.
Features as exterior wall material
Hi-Tech, reliable and durable

Various artistic effect, weather resistance and thermal insulation make it more functional and longer-lasting.

 
As a leading manufacturer of coating, Seigneurie provides exterior wall coating, interior paints, decorative paints, wood paints.


Seigneurie is also on the cutting edge of colour of innovation. It provides remarkable coverage, color matching, shadow effect, dependability and multiple solutions through Absolu System's high solution coloring.




In addition to more than 200 points of sale in France, Seigneurie is also a leader in DOM-TOM and Africa markets. Moreover, it has participated many large projects in Spanish, Portugal, Asia and China.
---
Automotive Refinish
Automotive paint is one of the main businesses that PPG is most proud of. Whether it is OEM or refinish paint, PPG has become the world's leading supplier. Its products have been recognized by Rolls-Royce, Mercedes-Benz, Ferrari, General Motors, BMW and many other top automakers as its designated products.

Another major change in PPG's industrial history has been the invention of Electrocoat technology, which ensures that coatings can be evenly distributed on the surface of metal parts. Today, Electrocoats has become the industry standard for automotive coatings and is used in 2/3 of the world's automotive coatings. When PPG technology uses PPG refinish paint to repair a car, it is worth your full trust, whether it is color matching accuracy or permanence.
The long-term tacit cooperation with global car manufacturers can ensure that PPG can develop matching color standards in the initial design phase of each new car, so PPG's color experts can accurately analyze the color in the refinish paint system.

Formula

. Today, PPG's various brands of high-tech and environmentally-friendly automotive paints have more than one million color formulations, so that any color matching any car can be deployed anywhere in the world.
---